Spare parts
We can offer you a whole range of spare parts for our entire range of heat exchangers. We use only original spare parts for our heat exchangers which achieve top quality and the longest service life.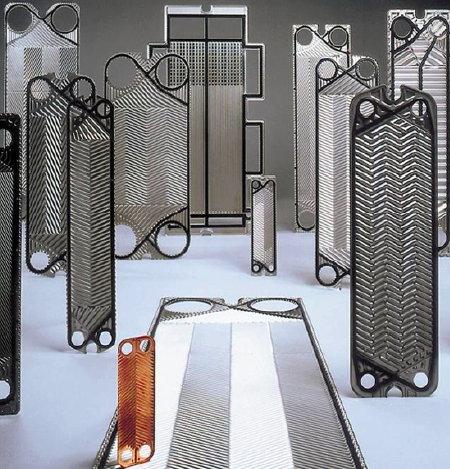 Spare plates for heat exchangers
Seals for heat exchanger or pasteurizer plates
NT007, NT025, NT05, CHX1000,

CHXS300

CHX500

VT05

original seal for API SCHMIDT heat exchangers - SIGMA, TENEZ Sigma M, K7-306
We also provide complete plate sets (plate with seal) for demountable plate heat exchangers from the German manufacturer API Schmidt Bretten known as (SIGMA), both with different plate thickness (from 0.4 mm to 0.8 mm) and quality material (1.4301/AISI 304, 1.4404/AISI 316L, 1.4539/AISI 904L, 1.4547/AISI 31254,1.4571/AISI 316Ti,  2.4068/nickel, 2.4819/alloy C-276, titanium or titanium palladium) and the type of seal chosen (NBR, EPDM, FKM, AFM, PTFE, VITON, Silicone etc.).
We supply plate sets mainly for detachable plate heat exchangers of the type: SIGMA K16, SIGMA K17, SIGMA K22, SIGMA K32, SIGMA K48, SIGMA K52, SIGMA K64, SIGMA K114, SIGMA M7, SIGMA M9, SIGMA M13, SIGMA M18 S, SIGMA M18 X, SIGMA M19, SIGMA M25 S, SIGMA M25 X, SIGMA M26, SIGMA M35 S, SIGMA M35 X, SIGMA M36, SIGMA M37, SIGMA M55 S, SIGMA M55 X, SIGMA M56 S, SIGMA M56 X, SIGMA M66, SIGMA M76 S, SIGMA M76 X, SIGMA M96 S, SIGMA M96 X, SIGMA M106 S, SIGMA M106 X, SIGMA M136 S, SIGMA M136 X, SIGMA M156, SIGMA M206, SIGMA M229, SIGMA M306.
Sealing materials
When using a heat exchanger with a seal, it is necessary to follow certain rules depending on the temperature and the type of medium used. If the temperature is constantly exceeded, the seal ages and degrades rapidly.  
Sealing material according to temperatures and their applicability:
| | | |
| --- | --- | --- |
| SEALING MATERIAL | MAXIMUM TEMPERATURE | APPLICABILITY |
| NBR | 140 °C | oils, water, food |
| EPDM | 160 °C | water, steam, weak acids |
| VITON | 180 °C | aggressive chemical oils |
| PTFE | 160 °C | highly aggressive chemicals |
| SILIKON | 110 °C | oils |
| AFM34 | 160 °C | oils, solvents |