Plate heat exchangers fully welded
Welded heat exchangers are our key product. We devote a lot of energy to them, focus on development and constantly improve them. Excellent properties, high corrosion resistance, high heat transfer intensity and the possibility of high operating temperatures and pressures predetermine our heat exchangers for the most demanding heat transfer processes, for example in the chemical, petrochemical or pharmaceutical industries.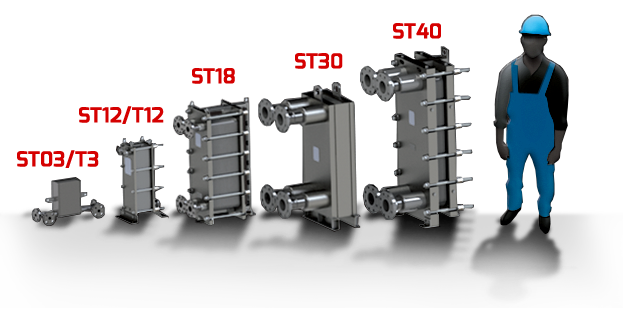 In this range of heat exchangers, you will find products for common standard areas of application in various industries. Standard line heat exchangers are highly efficient, corrosion-resistant, long-lasting and can be used in demanding operations.

 
Heat exchangers from the T-heat series are among the top products in their segment. The heat exchanger technology uses modernized plates which provide even better heat transfer and lower pressure drop. The result is maximum efficiency with respect to the minimum number of plates in the exchanger.
---
Application
Heat exchange in the chemical and pharmaceutical industries.

Heating technology - DHW transfer stations.

Use water - water, water - steam.

Area of process technologies with the need for heat exchange.

Air conditioning systems and heat pump systems.

Refrigeration technology - evaporators, condensers.

Heat exchange in the food industry.

Heating / cooling of water and other media, including aggressive ones.

Heat recovery equipment.

Spa technology.

Beverage industry.

Medical and medical technology.

Laser technology.
Advantages of our welded heat exchangers
For the chemical industry, we have developed the best plate heat exchanger on the market in terms of heat transfer, pressure drop and corrosion resistance. Our plate heat exchangers also have other advantages:
During production we use a unique patented technology without additional material. The exchanger then resists corrosion and aggressive media better.

The heat exchangers can be used in a wide temperature range, from -100 °C to +300 °C.

Welded heat exchangers withstand demanding environments, they can handle pressures from -1 to 30 bar.

The construction of the welded exchanger is without the used seal which increases the classic range of operations (corrosion resistance, operational safety, operating pressures, temperatures, etc.).

Welded heat exchangers do not require downtime due to seal replacement and are chemically cleanable.

Due to the dimensions of the exchangers, they are easier to handle and take up less space in operation.

The exchangers have a longer service life and lower maintenance costs which means cost savings in the medium term.

Can be chemically cleaned by chemical flow.
Technology of production of welded exchangers
The basic functional part of the exchanger is an exchanger body composed of heat exchange plates which we manufacture ourselves. Heat exchange plates are usually pressed from austenitic stainless steel or from special, high-alloy steels or titanium with a thickness of 0.6 mm.
Reinforced plates then become the basic building block of welded heat exchangers and play a major role in the excellent thermodynamic properties of our heat exchangers. Thanks to the optimal corrugation of their surfaces it is possible to achieve for example a heat transfer coefficient of up to 7000 W/m2 °C in the water-water operating mode.
The arrangement of the plates creates two separate spaces between which heat is transferred. According to the customer's wishes the functional surface of the boards can be further galvanically modified and polished which together with the highly turbulent flow is reflected in the minimization of the formation of deposits, contamination and clogging.
Thermal efficiency of exchangers
The internal arrangement of the flow can be optimized with regard to the required intensity of heat transfer, maximum reduction of pressure loss or special requirements of the cooling or heating process. The intensity of heat transfer and the pressure loss of the heat exchanger depend among other things on the angle of wave waveform and the resulting turbulent flow. For this reason, we are able to use various types of plates with larger or smaller wave pitch angle, shape and size or a combination of individual plate types in order to achieve optimal values of exchangers according to your requirements.
Modern welding technology
In the production of welded heat exchangers we use our own unique machine welding technology without additional material. The plates are welded to each other around the outer perimeter and around the perimeters of the inlet holes by the WIG method (i.e. by welding without additional material in a protective argon atmosphere). Then the heat exchanger body is usually equipped with four necks which are also WIG welded.
The actual body of the exchanger which is already welded is pulled between the covers the design of which we offer either in the fully welded form of covers or in the form of screwed covers. We produce covers from structural steel (surface treatment by painting) or from austenitic steel (surface ballotine). The connection of the exchanger to the valve is made by thread or flanges or according to the customer's request.
FULLY WELDED COVER

SCREW COVER

welded body
neck
front cover
vack cover
sidewalls
mounting bracket
counterparts (supplied customer's request)
carrying eyes for handling

Main advantages:

compact and more robust design suitable for riskier environments
higher level of safety, the exchanger is covered on all four sides
more suitable for confined spaces due to smaller dimensions

welded body
direct connection/fixed sockets
front cover
back cover
tightening screws
stand
counterparts (supplied on customer's request)
carrying eyes for handling

Main advantages:

optimal solution for steam operations
easy disassembly of the bundle for replacement of damaged body
variability when changing the required power

 
Special design of exchangers
For special technological needs that require really extreme conditions, special designs of exchangers are intended for example for sudden temperature changes, design eliminating mechanical stresses from unequal expansion of body and casing parts consisting of flexible
connection at the point of passage of necks through the front plate floating heads for boiler exchangers). For noiseless operation in the mode - steam - liquid, it is possible to supply an exchanger with a so-called shock absorber (wave compensator).
Material of welded heat exchangers
The material of heat exchange plates is produced alternatively from austenitic steel, superaustenitic steel, duplex steel, nickel, titanium and tantalum alloys.
Austenitic steel – DIN 1.4404, DIN 1.4571 (water, weak solutions of NaOH and HNO3, oilds, steam, freons, NH3).

Superaustenitic steel – DIN 1.4539, DIN 1.4547 (substances with higher chloride content, NaOH solutions, HNO3).

Nickel alloy – DIN 2.4610, DIN 2.4819 (acids H2SO4, HCl, HF, H3PO4, organic acids, alkalis and salts).

Titanium alloyes – DIN 3.7025 Gr.1, Gr.2 a Gr.7 (higher content of chlorides, brine, chlorine, NaOH, HNO3, H3PO4, weak acids H2SO4, sea water).